A 12th league title for the incredible Alec McNair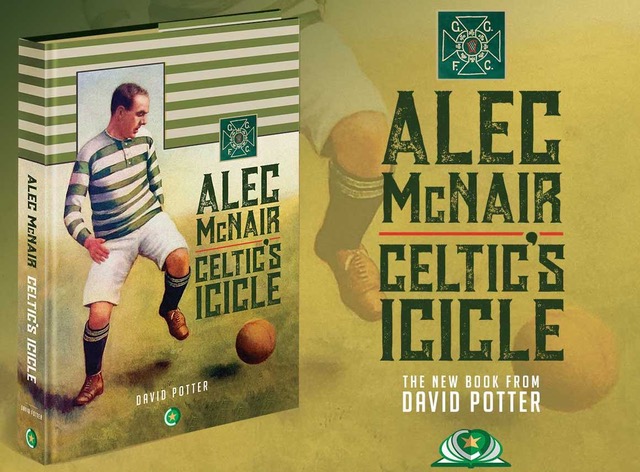 A 12th league victory for the incredible Alec McNair… is the fourth and the last of our exclusive snippets we'll be releasing today from David Potter's new book, Alec McNair – Celtic's Icicle, is now available in all Celtic Stores and through the club's online store – great for those with their voucher from £ 50 to spend! Celtic's Icicle is now also available on Amazon and of course directly from Celtic Star Books…
No Celtic player in history has won more league titles than the incredible Alec McNair, Celtic's Icicle.
Appearing as a youngster in the winner-take-all playoffs victory over Rangers in 1905, Eck would become a key part of Willie Maley's first major teams, scoring six straight wins in 1910, then adding another streak. of four successive Scottish League championships in the spring of 1917. Number 11 would follow suit for the Bould Bhoys two years later.
In April 1922, an incredible 17 years after winning his first medal as a Celt, Alec and his team were locked in a titanic Scottish title fight with their rivals Rangers.
No one describes these events of Celtic's long, unbroken history like David Potter, and the following is an excerpt from his latest book, which covers Alec McNair's fabulous career.
A 12th league title for the incredible Alec McNair
McNair was in great shape the following Saturday, when Celtic made the short trip to Coatbridge to beat Albion Rovers 2-0, the day made even better by the news that Morton had won the Scottish Cup for the first time by beating the Rangers 1- 0 in what Dundee Mail frankly described as the "Toughest Cup final ever".
Celtic now had 64 points and two games to play, Rangers had 59 with four to play. Willie Maley's Bhoys simply had to win those two games, against Partick Thistle at home 48 hours later and Morton away on the last Saturday of the month. Thistle, even with Jimmy McColl now playing for them, might make little impression on Shaw, McNair and Dodds, as Celtic won 3-0, Rangers also won their game that day and their two games down. So, we entered the final day of the season with Celtic one point ahead, going to Morton and the Rangers playing Clyde. Saturday April 29, 1922 turned out to be one of the most dramatic days in Alec McNair's long career, but once again it brought out the best in him.
Eck needed to be calm and cool that afternoon for several reasons. One was the size of the crowd – 23,500 people crammed inside Cappielow, a record that stands to this day. Cappielow is a field where the crowd is almost above the players. Another factor was the sheer passion of Morton and their fans, now at their peak after their Scottish Cup victory two weeks before, and yet another was the fanaticism of the Celtic crowd desperate to win the Scottish League flag. .
There were several disturbances in the room, some caused by overcrowding but others caused by missiles – including rivets stolen from the shipyard – thrown from one section of the crowd to another. The situation was not helped by what was happening in Ireland at the time, nor by the ongoing Labor unrest in the shipyards, mines and railways.
If there was ever a time for the Rudyard Kipling quote "If you can keep your head when everything around you is losing theirs and you blame it …" that was it for Alec McNair. With several players clearly intimidated by it all and showing every sign of 'losing', Eck had to stay calm. He had to be The Icicle today, and he was. Morton, for long periods in the game, was in the lead, with his midfielder predominant. Greenock's side scored thanks to Alf Brown before half-time, and things looked grim for Celtic as it was still 0-0 at Shawfield, and that combination of results would have given Rangers the title with a average goals.
Celtic had to score but it was difficult to focus on the job at hand with the constant babbling and the very real fear that at any moment the crowd could erupt into serious violence. There was also no real way of knowing what was going on in Shawfield. People shouted "1-0 for the Rangers", or "1-0 for Clyde", however, Alec McNair would know it was hogwash. In 1922, the only people who had a chance of knowing the score were the men of the press, who had a telephone connection with their newspaper offices, but for the moment they were far too focused on this match, in which Morton was in the squeeze. for a second goal.
McNair was the epitome of composure, allowing nothing to disturb him. The tumult of the crowd on the terraces or their proximity on the track, the speed of his opponents the realization that a championship was at stake… he continued to play his normal game, totally alert, quite competent.Rhapsody in green, (Tom Campbell and Pat Woods, 1990).
More than once Eck prevented Celtic from going any further, however, the need now was for a goal as time was running out. Celtic didn't quite look like it was scoring, but eventually with six minutes to go, a high scoreless cross was sent into the penalty area by Johnny Gilchrist and goalkeeper Edwards rose to retrieve it. Inexplicably, without any pressure, Edwards let him down and Andy McAtee, hiding more in hope than expectation, managed to get an outrageous header on the ball (it was more like his face!) And Celtic evened to the accompaniment of chaos on the terrace.
Now, as it often happens, Celtic have taken the lead and in the last few minutes have come close to scoring the goal that would have definitely earned them the league title. But the full time has come, and as Eck McNair shook hands with his opponents (the game itself had been clean despite everything that was going on around the area), he wouldn't have been human if he hadn't. hadn't looked up in the Press Box to see if there was any indication of what had happened between Clyde and Rangers in Shawfield. The absence of any animation led Alec to believe that this match had indeed ended 0-0 and that, as a result, Celtic had won their 16th League flag and that he had personally won 12 winner's medals. the league. A smiling Willie Maley duly confirmed that this was the full-time result at Shawfield.
The day did not end there, however. Outside the ground were scenes of reckless mess, with broken windows, ongoing fighting, shattered windows and numerous injuries, perhaps proving that so many young men had unfortunately learned all too well to be violent from their years in khaki, or worse yet. , were looking to come back to it. McNair was sad about it all, of course, although by the time the Celtic gibberish left the crowd had started to disperse. It was, despite everything that had happened, a proud moment for the club and for its seemingly immortal Alec McNair, who had played such a big part in the triumph.
David potter