Here's how much a Lamborghini 350 GT costs today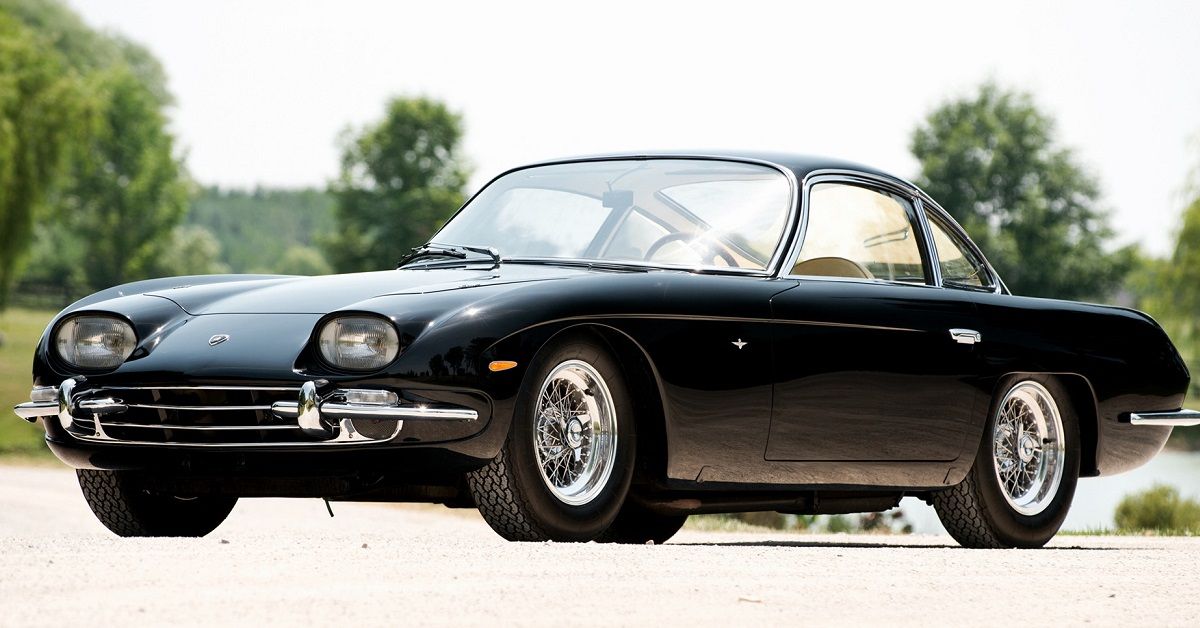 The 350 GT was Lamborghini's first car, and the launch of the car also launched Lamborghini in the public eye. With their award-winning car praised for its ease of use, refinement and performance, the 350 GT helped establish Lamborghini as a luxury vehicle company that made quality cars.
These vehicles were also quite rare, with only a certain amount made during 1964-1966 production. Due to their age and limited production, combined with recently renewed interest and initiative from collectors, the prices of these 350 GTs have skyrocketed to the point of costing more than 50 times their original value.
Read on to learn more about the price range of a Lamborghini 350 GT in the modern automotive economy.
Related: Like a Lamb(o) to Slaughter: Tesla vs. Lamborghini in a Drag Race
Lamborghini 350 GT: exponential price increase
What once cost $13,900 at release now costs $726,000, assuming pristine condition. Additionally, the cost of a single tune-up is $3,500. According to classic.com, out of 11 sales of this Lamborghini model, the highest sale price was $758,500 and the lowest sale price was $252,000. The average sale price, however, was $538,632, which is still significantly more affordable than the highest sale price.
That said, part of the exponential increase in price is age, as this is a mid-1960s vehicle; another factor is that it was a limited release vehicle from the start. Very few were built at the time. In fact, when production ceased in 1967, only 120 units were completed.
Analysts have noted how these vehicles are catching up to their true value after being undervalued for decades. It also helps that there has been a resurgence of interest in Lamborghinis recently, and many collectors have taken it upon themselves to restore older 350 GT models accordingly. Its collector car status has only improved, which contributes to the steep price increase.
Lamborghini 350 GT: back in the day
When Lamborghini first made its mark, it was the 350 GT that made it known to the public. This car is credited with the launch of Lamborghini as it was the first vehicle the company sold to the public. Moreover, it has been well received thanks to its ease of use, solid performance and noticeable refinement. The original models had a 3.5 liter V12 engine, although they have been known to be upgraded to the 4.0 liter V12 engine, especially with collectors who have recently restored them. When millionaire Ferruccio Lamborghini decided to make a more refined vehicle, he aimed to counter the competition at Ferrari and their noisier, race-oriented, track-based vehicles. Thus, the 350 GT was born.
The first model of this car debuted at the Geneva Motor Show in 1964. The concept car performed so well that the production version went on sale five months later. Several cosmetic and physiological changes were made between concept cars and production cars for practical purposes. The success of the 350 GT inspired the company to launch newer and similar models, such as the Diablo, Veneno, Countach and Gallardo, and gave them the stability and financial security to continue. Most notably, the success of the 350 GT made Lamborghini a serious competitor to Ferrari, who took the hint and started manufacturing their next iteration of models.
Related: We find out if a Lamborghini Huracan really should go off-road
Lamborghini 350 GT: old specs
Naturally aspirated and made with aluminum alloys, the specs of the 350 GT are somewhat distinct. As mentioned earlier, only 120 were made during the two years of production. Its block material was made of an aluminum alloy and it had a compression ratio of 9.5:1.
It also produced 239 lb-ft of torque at 4,000 rpm, with rear-wheel drive and a weight of 3,200 lbs. It could hit 60 MPH in just 7.4 seconds and used a ZF 5-speed manual transmission. That said, it only got 13 MPG, which compared to today's cars is poor mileage and fuel economy.
Lamborghini 350 GT: performance at auction
The price range of the 350 GT models sold at auction is a bit more volatile and wide. In 2010, model units of the 350 GT were selling for just $165,400. However, the following year showed a spike, as one sold in August 2011 for $434,500.
Additionally, while the dealer price range ends around $726,000, auctions can often have bidders going beyond the main price range. Such was the case in August 2015, when a model sold for $935,000. Since then, many models at auction have fallen into the dealer's price range.
Sources: sportscarmarket.com, classic.com, classicdriver.com, supercars.net, lambocars.com, hemmings.com, rmsothebys.com,
Listen to the sweet sounds of these Lamborghini Aventadors
Read more
About the Author