Here's what the 1966 Fiat 124 Sport Spider costs today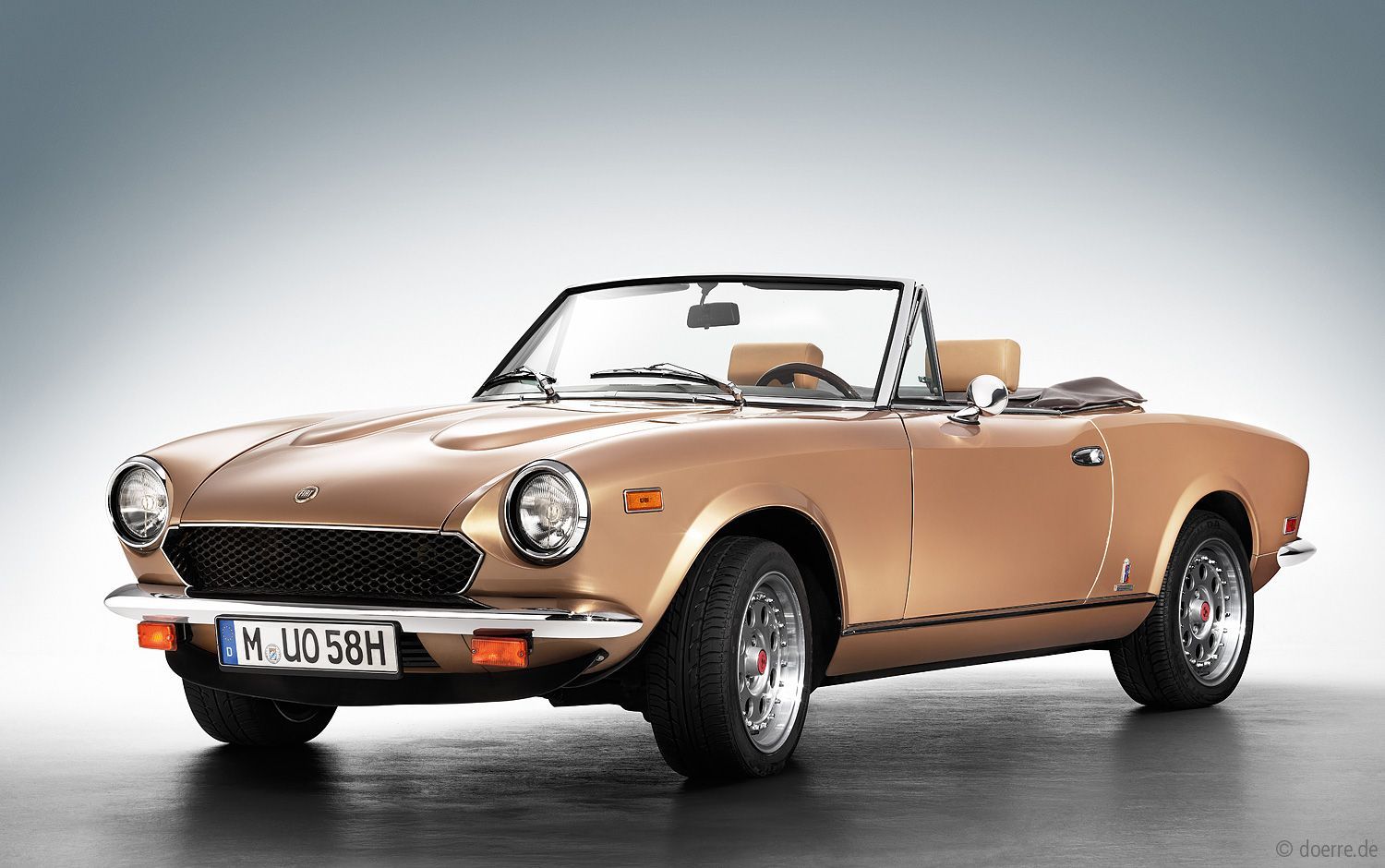 The sports version of the Fiat 124 Spider born in 1966 is a convertible beauty that many Fiat fans know. Both its shape and design are iconic, with a long front, short back and spacious interior. All these design features are not typical of modern small Fiats.
The 1966 Fiat 124 Sport Spider is, fortunately for fans of classic sports cars, still on the market today. Some owners take great care of their classic sports cars. So even though some models like the 1966 Fiat 124 Sport Spider were produced over 50 years ago, they are still in pristine condition today.
Here's a look at the 1966 Fiat 124 Sport Spider and what it will cost to own a pristine example today.
RELATED: Here's What We Like About the 2018 Fiat 124 Spider
1966 Fiat 124 Sport Spider Specifications
Fiat's 124 Sport Spider first appeared at the Turin Auto Show in November 1966. Its classy styling and looks were courtesy of Italian design firm Pininfarina with Tom Tjaarda handling the styling.
The car is a front-engine, rear-wheel-drive Italian masterpiece. The 1966 Fiat Sports Spider uses a shorter platform with a shorter wheelbase compared to its siblings, the 124 Sports Coupé and Sports Sedan.
The Fiat 124 Sport Spider is equipped with a 1.2-liter four-cylinder engine, which then slowly increased over the last model years. The engine is a double overhead camshaft (DOHC), which was the first mass-produced DOHC to use reinforced rubber timing belts. Little did Fiat know this innovation would later gain near-universal adoption decades after its introduction.
Fiat's 1966 model could boast a maximum of 65 HP, which isn't that impressive these days, but in the 1960s it would be a desire for many sports car drivers. Its performance manages to outweigh its small engine. Road & Track continually praises the acceleration of the 1966 Fiat 124 Sport Spider and often compares it to cars in the 1800-2000cc class.
The cost of the 1966 Fiat 124 Sport Spider today
In today's market, the 1966 Fiat 124 Sport Spider would cost a customer around $12,180. Since the 124 Sport Spider was in production until 1985, other models are also available on the market. Therefore, potential buyers will have to check its history and specs to know if it is an actual 1966 model or not.
Later models usually sell for much more, sometimes double that, which is due to the larger engine, improved performance, and design improvements.
RELATED: It's the Fiat 124 Spider's Coolest Feature
What makes the 1966 Fiat 124 Sport Spider a good investment?
Overall, the current market price of the 1966 Fiat 124 Sport Spider is quite reasonable. Most new cars on the market don't even come close to that price, which makes it all the more tempting for those who prefer classic rides.
The unique selling point of the 1966 model, which makes it a good investment, is the fact that it is the first model in the 124 Sport Spider line. Some prefer better performance specs, but others like the fact that they can drive in the most classic model in the entire line. Therefore, for anyone who dreams of owning a first generation sports car from any classic line, the 1966 model would be one of the best options.
Additionally, another great feature of the 1966 model is its lightweight body. This allows the 124 Sport Spider to accelerate quickly and improve its aerodynamics, which is exactly what sports car drivers are looking for. It has a curb weight of 2,083 pounds. In comparison to other 1960s sports cars like the Ford Fairlane that weighs 3,375 pounds, the 1966 Fiat 124 Sport Spider certainly looks like a feather.
Finally, another reason the 1966 model is a great investment is its overall design. The engine isn't quite the best-selling feature. But, it can still pick up the pace and perform as many Fiat sports car fans hope. However, its design overshadows any flaws people might have with this model. Not only does it offer a convertible top, but it's also incredibly roomy for such a small car.
Drivers can easily feel comfortable in this sports car, making it the perfect purchase for anyone who wants to enjoy a car like this for long drives. With the roof down, any driver can feel free and weightless. In combination with the lightweight body, it allows for easy and convenient riding.
In summary, the 1966 Fiat 124 Sport Spider has great market value today. If anyone manages to get their hands on it, they're in for a treat. The convertible design is sure to turn heads and make anyone feel like they've made a great car purchase when they can enjoy the wind in their hair while driving down the highway in such a classic car.
It's alive! The 2020 Fiat 124 Spider stays in America
Read more
About the Author