Will politics destroy the planet?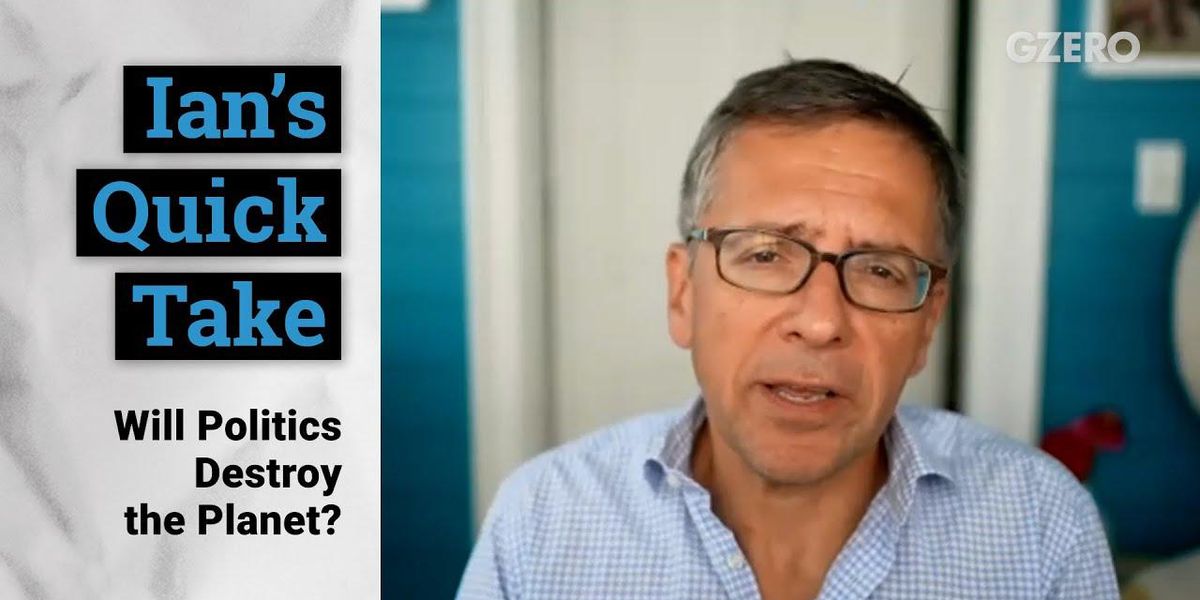 Ian Bremmer's quick shot:
Hi everyone. Ian Bremmer here and have a good week to you all. I'm talking about the last and very important report of the Intergovernmental Panel on Climate Change, the IPCC. They publish them every few years as a sort of world report on climate, global warming, sea level rise, changes, extreme storms, droughts, and rainfall levels. And no one should be surprised that this isn't particularly happy news. I mean, of course, so many headlines about the big wildfires in California, Oregon, Turkey, Greece and others around the world and the big flood issues.
---
I mean, it hasn't been a happy situation. But this report, one thing I can say, to begin with, is that it has to give us reason to be optimistic. With over 200 participating countries, do you get an overwhelming consensus on the current state of climate change. There's still a lot of uncertainty about the long-term implications, especially the variability around things like rising sea levels, to what extent you'll end up melting the Arctic ice cap completely, for example.
But more than 200 countries, including most of the major carbon emitters, producers and exporters of fossil fuels, all participated. Basically, they all said, "Yeah, that's real." I mean, climate denial, which you've seen in important political elements, certainly in my own United States and in the Gulf states, in the Middle East, you don't see it anymore. There is a general understanding and consensus that this is real and the level of impact is no longer something that even the companies involved, whose business models are fundamentally dependent on things like oil, gas and coal. , they can make very different arguments about what to prioritize and how to engage in the transition. But no one there really is, they don't believe it's happening. That in itself compared to where we were five or ten years ago is a positive thing.
Another thing I would say is that we now see, I mean, in terms of consensus. There is a consensus that humans are responsible for the increase in temperature on the planet. On average, already more than one degree centigrade, about 1.1, the title figure. Interestingly, this report claims that there is still an opportunity for the world to move to 1.5 degrees centigrade. The 1.5 is already integrated. You cannot do less than that. But if you are able to significantly reduce carbon emissions by 2040, which are functionally zero, you can keep them at 1.5.
I want to be clear, based on our climate practice at Eurasia Group, none of us think this is going to happen. We think the most positive realistic scenario looks more like 2.5 degrees centigrade of warming. We think we're on a 3.5 degree warming path right now, and the calamitous implications of that for the global economy, for human development, are very, very real. In fact, this ratio with the 1.5 degree was more optimistic than I expected. I suspect that much of this is due to the fact that it is politically very controversial to reject the 1.5 degree target that so many countries have publicly set and on which they are suspending their recommendations. They want to show politically that we can still get there. Again, I don't think the policy exists for this.
What that means though, even at this level, is that much of the climate change by 2050, which for most of us is, in a way, the predictable lifespan prospect at which we think is already locked in, anchored, if you will, in terms of the global average. This means that you will have one foot of sea level rise regardless of what is going on in the world. This means that you will have extraordinary heat waves and climatic extremes that will affect all regions of the world with a temperature rise of 1.1 degrees. This shows that it's not just sub-Saharan Africa, that's all. It's Europe, it's Eurasia, it's Asia, it's the North, it's the southern hemisphere. Not as much data or certainty in terms of precipitation levels. Not as much certainty about the direction of sea level, but a significant amount of certainty about what that means for temperatures.
I would also like to mention that a great thing that is not mentioned at all in this report is the implications of all the mortalities of flora and fauna, of animals, extinctions that we are seeing more and more. I mean, really unprecedented levels for millennia. And that, we do not know. Science is really uncertain what it means when you take big chunks of the ecosystem out of the equation. What kind of genetic engineering are we going to try to engage in to solve these problems? And can we avoid the worst case scenarios of what could be a disruption in the food chain, for example? A break in the sustainability that comes from the life that exists on the planet as you embark on such a short term dramatic change in the climatic environment in which they live.
Another thing I would just like to mention is one of the reasons I think 2.0, 2.5 degrees is so unlikely and we're more likely to hit 3.5 is because I'm political scientist and look at the differences in responses from different countries around the world. The United States, in terms of per capita carbon consumption, has been declining for decades. And per capita carbon consumption in the United States today is much lower than it was 10 or 20 years ago.
But in China, which is industrializing, which has a lot more people than the United States, 1.4 billion, they now have well over twice the total carbon emissions of the United States. They will be 3X in relatively short order, in a few years. Part of the reason is that they need a lot more energy to produce for their people. Per capita, much less carbon use than in the United States, drastically less.
But today, nearly 60% of China's energy consumption comes from coal. And much of their exports, even to poor countries around the world, come from fossil fuels. India, less rich than China. Same population. Will overtake their population in a very short time. They also want to industrialize. And the ability of rich countries to convince India, China, to actually start hitting net zero goals is going to require a fair conversation about the fact that we in rich countries have done most of the carbon emissions. historic as the Chinese and Indians try to catch up with our standard of living today.
On a per capita basis, ours are much higher than those of Indians, Chinese and other countries of the world. Don't they matter as people? What kind of a fairness conversation are we going to have with them? Given the lack of confidence and reluctance of most people to think, to value the long term future of the planet for their children, for their grandchildren, the discount variable that we all have, the uncertainty about new technologies that could unlock. We know we have a bird in our hand today. It makes these conversations much more difficult.
Even before getting to G-Zero and the lack of global coordination and the lack of leadership even in my own country, the partisanship and inability of a Biden administration that cares much more about the climate than previous administrations, but still very limited in what they can actually do. So for all these reasons our orientation is even more towards 3.5, with a upset scenario for the planet at maybe 2.5 degrees centigrade. And this 1.5, in my opinion, is an overly optimistic take.
We will talk about this a lot more in the future. Hope it is worth it for everyone and see you soon.