Young people will get 500,000 jobs on the newly launched platform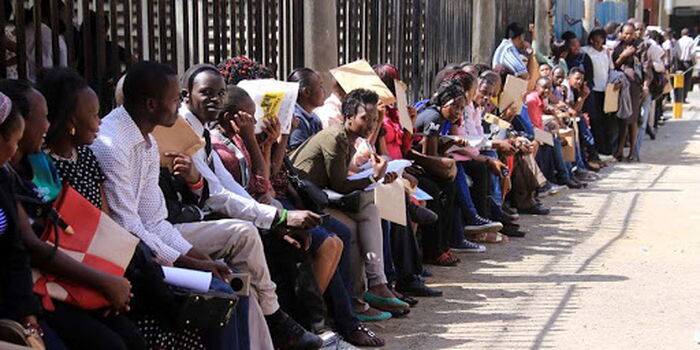 The manufacturing sector has made considerable progress in tackling the national problem of youth unemployment.
In the latest move in the sector, young people interested in securing employment opportunities and upgrading their skills in the manufacturing sector will have the opportunity to be placed in specific jobs of their choice.
This follows the formation of an online platform by the industry in collaboration with other multinational organizations on Friday 26 November.
Job seekers in Kenya.
To file
The online portal aims to create more than 500,000 jobs in the manufacturing sector. The projected vacancies will be spread over a period of five years.
The platform, besides just creating jobs, will also store details of potential candidates with their skills linking them to employment opportunities in the sector.
The revolutionary online platform was developed by the Kenya Manufacturers Association (KAM) in collaboration with the German Development Cooperation.
The implementation of this smart initiative will be implemented with the support of the Ministry of Education and all stakeholders of the Technical and Vocational Education and Training Authority (TVETA).
It comes as the youth unemployment rate rose in the first quarter of 2021 before some of the containment measures put in place by the national government were lifted.
Phylis Wakiaga, CEO of the Kenya Manufacturers Association, speaking at another forum on Friday, November 26, said skills are important in the recent job market.
"We recognize that competitive skills are the key to the industrialization of our country, make us a global manufacturing hub and give new impetus to our economy," she said.
The same sentiments were echoed by KAM President Mucai Kinyuha, who said the country must create meaningful jobs for young people.
"We have a population explosion, we need to create meaningful and stable jobs, which the manufacturing sector is capable of doing. If we are to develop the manufacturing sector, we must feed both existing and future manufacturers. We must equip our young people to innovate. Our opportunities and capacities are enormous among our young people.
This will be one more step in dealing with the high unemployment rate in the country which has become a headache for many schemes.
File photo of people lining up for a job interview
To file